Casual Group Driving Events:
Royal Society, based out of Calgary, started in 2017 as a more informal group drives division of Royal Rally. It has since grown in popularity and attendance over the years. Our first drive in 2017 had a total of 9 cars on the event. Nowadays we regularly see 30-40 cars participating in our more casual drives.
Royal Society drives have no competitive aspect and no checkpoints. It's all about the drive!
If you're looking for an opportunity to go on a more relaxed cruise for a few hours, we'd love to have you come out. We drive as a group and make a few stops along the way to let everyone catch up. It's also a great opportunity to meet a lot of the folks who regularly come on Royal Rally, and gives you a little taste of what we're all about.
On average, our drives are about 250-300km long and take 2.5-3 hours to complete. We often have an optional lunch or dinner stop on the route as well, where applicable.
We'll update this page with future dates for Royal Society drives and aim to do a drive every month from April – October (as long as the weather allows).
Previous routes have taken us out to Longview, Nanton, Vulcan, Canmore and more! Our events are all based out of Calgary.
When's The Next Drive?
The next drive is planned for Sunday, April 18, 2021!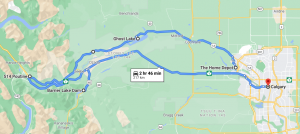 Royal Society's Canmore Crusade casual drive will take participants from North-West Calgary out to Canmore via Highway 1A and back via the Trans-Canada Highway.
We will be leaving Calgary at 10:30 a.m., so please be at the meeting point before then.
We will be making one stop on both the way there and the way back, as well as a stop for lunch in Canmore. The drive will be approx. 217km in length and will take about 3.5 hours (including a quick stop for lunch). This drive is FREE to participate in. If you choose to purchase lunch, that expense is yours to take on.
Please fill out the form below to RSVP.